Does Your Ford Need an Oil Change? | Griffith Ford Uvalde

Oil Changes at Griffith Ford Uvalde
You love the purr or the roar of that engine powering your Ford vehicle. Keep it sounding that way with routine maintenance. Regular service starts with oil changes at GriffithFord Uvalde to provide optimum performance with every mile.
An oil change is one of the most basic tasks for routine maintenance, but one that is often neglected. The oil travels through the system and lubricates the engine and other components that provide the power to run your Ford vehicle. The oil filter keeps out road debris and dust that could make your engine sluggish or cause damage. As the oil gets used over and over, it loses its effectiveness, often making your engine work harder than necessary. Regular oil changes provide numerous benefits that you will value as a car owner.
The Importance of Regular Oil Changes
Extends the life of the engine
Improves performance
Improves fuel efficiency
Increases resale value
Reduces the need for costly repairs
It is important to follow the recommended manufacturer guidelines for when to change the oil and replace the filter. The service technicians at Griffith Ford Uvalde will take care of your engine with regular oil changes, using genuine OEM parts and the right weight of oil for your vehicle.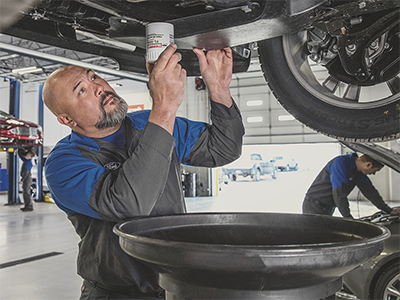 While performing the oil change, the technicians will also conduct an inspection of other systems on your vehicle and alert you of any potential repairs they find. This can save you money and time in repairs down the road and keep you from getting stranded in your driveway or on the highway.
Give us a call here at Griffith Ford Uvalde to schedule an oilchange or stop by to get your vehicle taken care of the same day. We are ready and waiting to help you care for your Ford vehicle with a quick and important oil change.
Griffith Ford

3000 East Main St.
Uvalde, TX 78801