Does Your Ford Need New Tires? | Griffith Ford Uvalde

Tire Service at Griffith Ford Uvalde
Roll along in style and comfort on the right tires for your Ford vehicle. You will find a wide range of tire brands and sizes for almost any make and model at GriffithFord Uvalde. Our team is ready and willing to help you pick out the right set to meet your needs and budget.
Your tires do more than just get you where you want to go. They also provide stability, traction and safety for the journey. Mile after mile, they roll along, stopping when brakes are applied and moving faster when you hit the accelerator. Over time, the tread wears down from the friction with the pavement, and the tires need to be replaced. Our team here at Griffith Ford Uvalde will help you find the right size and brand tire to fit your budget. Choose between all-season or performance tires or go for an off-road tire with extra grip.
Caring for Your New Tires
You can help ensure your new tires last longer with regular tire rotation. Rotating your tires ensures an even tread and better grip on the road. If you notice uneven wear, you may need a wheel alignment. Uneven tread can be dangerous, especially in adverse road conditions.
If your tire gets a leak, we often can patch it as long as there is plenty of tread left. We'll check the air pressure in your tires, which can help prevent leaks and other issues. We'll test the tread for you and let you know when it's time to look at a set of new tires. You can select a tire with warranties that fit your needs, such as a 50,000-mile tire or an 80,000-mile tire.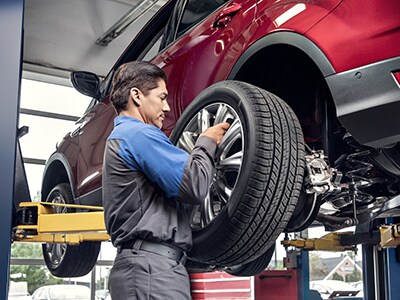 Let Griffith Ford Uvalde keep you riding along in your Ford vehicle with a set of tires that provide traction and reliability. Contact us for a tire inspection, repair or replacement today.
Griffith Ford

3000 East Main St.
Uvalde, TX 78801